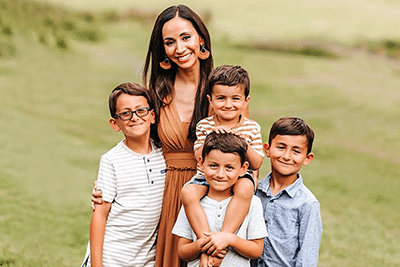 Background & Education
Dr. Mitra Westover is a Virginia native and can't imagine herself living anywhere else. She thinks Winchester is a beautiful place to live and a great place to raise a family. She graduated with a Bachelor of Science degree in Biochemistry from the University of Virginia, and she has a Doctor of Dental Surgery degree from Virginia Commonwealth University School of Dentistry.
At VCU School of Dentistry, Dr. Westover had the privilege of studying alongside world-renowned specialists and learning about the latest and greatest technology from some of the most talented dentists in the world. She graduated among the top of her class in clinical dentistry, finished her clinical requirements early, and was able to complete several highly competitive externships. Dr. Westover also enjoys taking continuing education courses to better develop her dental skills. She is a member of the American Dental Association, the Virginia Dental Association, the Shenandoah Valley Dental Association, the Academy of General Dentistry, and she is also a Pankey trained dentist.
Dr. Westover has a passion for taking care of others through dentistry. Her mother was a nurse, and she has always looked up to her as a "caretaker". She wanted to follow in her footsteps by becoming a healthcare professional herself. She discovered that dentistry not only provides her with a scientific focus, but with an artistic and social outlet as well. She feels truly blessed to work alongside the most caring and wonderful women. They are all truly loving, kind, and compassionate people whom she loves working with. Dr. Westover's brand new, state-of-the-art dental office is now open and accepting new patients! Dr. Westover looks forward to meeting you and helping you with any dental needs that you may have.
Outside the Office
When Dr. Westover is not practicing dentistry, she is spending time with her wonderful family. Drs. Westover have four wonderful children named Bennett, Brayden, William and Grayson. In addition to her passion for dentistry and taking care of others, she also has a passion for architecture and interior design. She thoroughly enjoyed working with the architects and designers in making their dental office a beautiful and comforting space for their patients. She is also a certified personal trainer and is passionate about nutrition and exercise. She loves to serve those less fortunate, and looks forward to doing so through Mission of Mercy Projects throughout Virginia, as well as other service projects in the Winchester area. Drs. Westover look forward to meeting you and helping with any dental need that you may have!