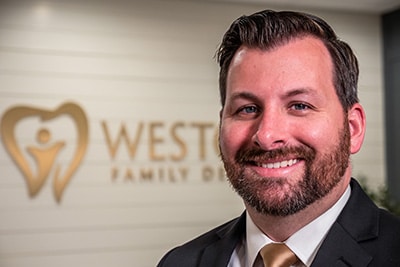 Background & Education
Dr. Austin Westover is a premier dentist in Winchester, VA. He fell in love with Winchester and moved to the area after receiving his Doctor of Dental Surgery from the Virginia Commonwealth University School of Dentistry. Dr. Westover chose to pursue dentistry after realizing the impact dentists are able to have on one individual, as well as on entire communities. He spent a lot of time working at orphanages in Mexico while in college, and he realized that taking care of people and serving others is his passion in life. While in dental school, he was a project coordinator for the Mission of Mercy Projects, where dental care is donated to those in underprivileged communities. He continues to serve in this capacity, and has received several awards for his involvement with the Mission of Mercy Projects. He loves creating lifelong relationships with patients and their families, and he is committed to helping people at all stages of dental health work towards achieving their goals.
Dr. Westover is dedicated to life-long learning. He strives to read as much current dental literature as possible, while attending as many continuing education courses as possible. He has accumulated more than 700 hours of continuing education courses, allowing him to practice all fields and aspects of dentistry at the highest standard of care. He has completed courses at two highly regarded dental institutions, the Pankey and Spear Institutes of Dentistry. He has numerous dental certifications including Invisalign and Hybridge certifications. He is a member of several dental associations: the American Dental Association, the Virginia Dental Association, the Shenandoah Valley Dental Association, the Academy of General Dentistry, the American Academy of Cosmetic Dentistry, and the American Academy of Implant Dentistry. He has also completed a residency in TMJ Therapy by the Center for Occlusal Studies, and has completed hundreds of hours of training in the most advanced orthodontic techniques available.
Outside the Office
Dr. Westover loves helping people of all ages achieve their dental goals. He works with infants to those in their golden years. He has expanded his services to the retirement community of Westminster Canterbury in Winchester, VA. He serves at the retirement community once a month in order to help those unable to gain easy access to a dentist. He loves working with children and has also had hundreds of hours of experience working at a pediatric dental office.
He has several children of his own: four sweet and energetic boys named Bennett, Brayden, William and Grayson. When Dr. Westover is not practicing dentistry or learning about the newest dental techniques and equipment (he loves gadgets), he is spending time bonding and traveling with his wonderful family. Dr. Westover look forward to getting to know each of you individually. They are here to take care of any dental need that you may have. We look forward to seeing you at Westover Family Dentistry!